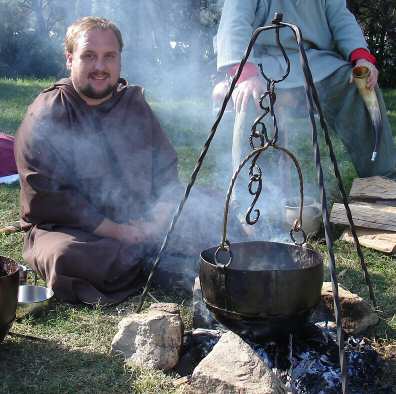 Clerk
The head of our guild is Rurik Farserkr, who has chosen the term "clerk" (rather than the SCA-traditional "guildmaster").
I am Rurik farseker (Order of the Laurel, Brewing) is a 11 Centuary English brother who finds the company of the heathens in his parish far more enjoyable then he probably should. Through pilgrimage, diplomatic work and travel for church administration he gets to come into contact with many, varied people and places.
I currently live in Politarchopolis (Canberra, Australia) where I brew for local events and other events that I am invited to. I am one of the founding members of the Mordenvale Company of Brewers and brew for various taverns around the area.
My current brewing interest include reproduction of Dark Ages brewing practices and Malt based beverages production from the end of the Dark Ages through to the beginning of the industrial revolution. Of particular interest to me is the commercial role of brewers in Tudor England.
My other interests in the SCA include working on my setup for Dark Ages camping, blacksmithing (I am not very good at it) and learning to sew. I also have an interest in the role of the Church at the parish level in the Middle Ages though this is more related to my mundane Studies.
Mundanely I hold some qualifications from the Institute of Brewing and Distilling of the Guilds and City of London (what the Brewers Guild of London turned into) and have worked in the homebrew industry in sales, teaching, product development and manufacture.
You can contact me through this website or see what I am up to at The Blacksmith's Arms
---
List Moderators
Our mailing list is moderated by four well-known and trusted members of the brewing community.
Drake
I'm Baron Drake Morgan, laurelled for brewing.
I'm currently the Baron of St Florian de la Riviere and a former guildmaster of the guild.
I've dabbled in most parts of medieval brewing over the years, and currently have interests in the following areas: Central Asian Food and Drink, Elizabethan Beer, Mead, and Liqueurs.
I like Pina Coladas and long walks on the beach…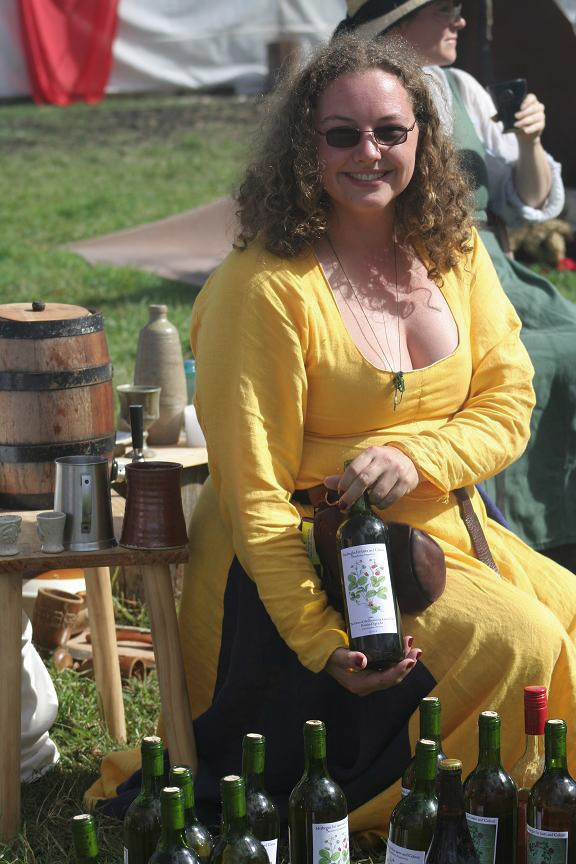 Elena
I am Elena le Breustere (laurelled for brewing), originally from 14th century England, however due to… circumstances… I moved to France and found that there was much better opportunity for me to practice my trade. My most recent venture was the inauguration of my tavern 'The Suspect Barrel', this being my first experience of serving from my own taps and kegs. I currently have an opening for a new 'Barrel Boy' as the previous one just didn't have the stamina for the task.
I am currently apprenticed to Master Drake Morgan and whilst I am based in Innilgard I regularly travel and you may well find me in Stormhold, Krae Glas, Politarchopolis, Mordenvale, Festival (wherever there is brewing going on) and all other places I can get to. I have been interested in and doing period brewing for over 15 years, which is co-incidentally how long I have been involved in the SCA. I have previously been our local reeve and also enjoy fencing, dancing, field and book heraldry, running and assisting in feasts, run our local children's boffer, play a lot with the College of Blessed Herman and will sew garb under sufferance.
My brewing mainly focuses on meads, fruit wines, ciders and liqueurs and I have also recently started dabbling in gruit ales. I only make period drinks and have never, ever, made anything from a commercial kit. Ugh… I have taught a series of basic brewing workshops in Stormhold and am currently running a similar series here in Innilgard. If you ask me I love to share my knowledge and if I don't know the answer to something I will help you research it or direct you to the person who is most likely to know it.
Wulf
I am Master Wulfwine of Grimwald a 10th century Anglo/Norse laurelled for Norse Lifestyle.
I live in Mordenvale where I was the first seneschal some 30 years ago and have been brewing for the same length of time. My brewing mostly focuses on ales, beers and melomels. I have had experience making Sahti and gruits and have experimented for the past 3 years with mash concoction brewing in
cauldrons on site at camping events. This is done using no modern equipment with surprisingly good results.
At home I mash brew and store and serve from kegs. I was one of the founders of Mordenvale's Spring War tavern and supply brews for this event every year. I can be found at the Dark Ages Encampment every year at Rowany Festival, Spring War and Rythym and Brews and am more than happy to share my knowledge with anyone who's interested and no doubt those that aren't when I've had a few.
I'm also happy to be of assistance to anyone wanting to try and emulate Dark Age brews in particular. There's not a lot of info out there and     several misconceptions. I'm also happy to teach brewing methods, both modern and of the cauldron variety and demonstrate some of these  techniques annually at Rythym and Brews.
Rohesia
I'm Mistress Rohesia Le Sarjent, 12th century Norman Palestinian, Laureled in Calligraphy and Illumination and Member of the Order of the Pelican.
I live in Southron Gaard (mundanely Christchurch, New Zealand) and have been involved with the SCA for nearly 30 years. I dabble in a great many SCA arts including wine making, distilling and perfumery, costuming, cosmetics, cooking, painting, stained glass and too many others to name. I have a reputation for giving anything a go, once. I'm also a dab hand at research, know way too much about the crusader period and just finished computer modeling a Norman castle. Just don't ask me anything about beer!
---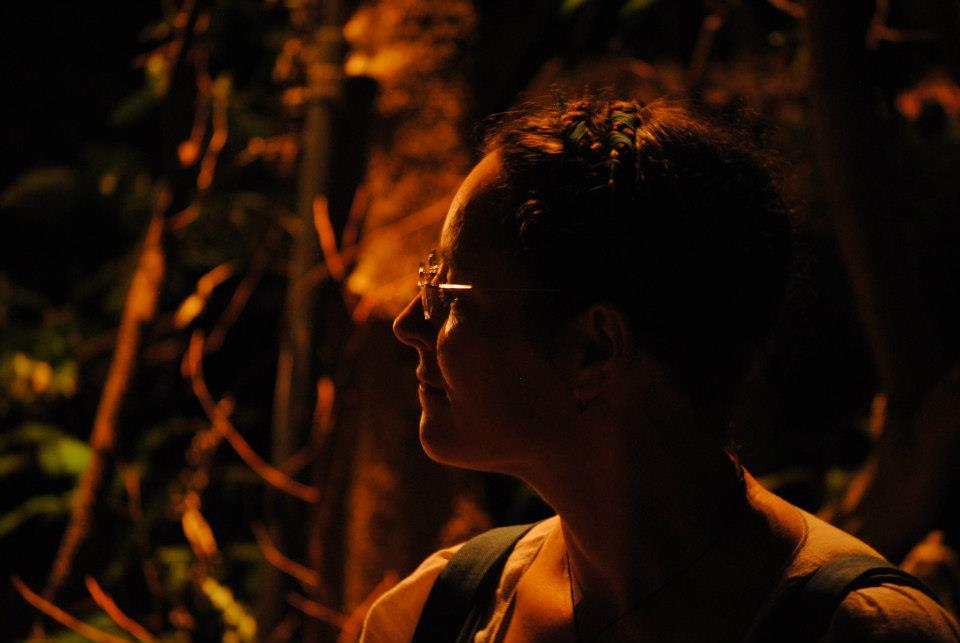 Webminister
The person that currently maintains the webpages is Taryn East. contact the Webminister here
Hi, I'm Taryn, and I'm a mead-maker. My favourite brew is a good, sticky sack-style mead – great for winter, but I also do a nice, mellow mid-sweet mead, several kinds of melomel and have recently tried a bouchet. I also do a lot of experimentation with brewing fruit-wines. My current favourites being strawberry and cherry wine.
I've been brewing for 15 years now, and have been in the SCA for "only" 10.