To the Lochac Guild of Brewers
Greeting from Rurik farserkr, Clerk of the Guild, Master in the Guild of Lochac Brewers, Master in the Mordenvale Company of Brewers and Companion of the Order of the Laurel.
Sorry for the lateness of this report but I have been a little busy with a baby who will not sleep.
It seems not so long ago that we were a fledgling group on the edge of Lochac practicing our craft not knowing how to take part in the larger discourse of the kingdom. However the last twelve months has seen some major changes for us as a cross-community within the Kingdom. We have been acknowledged as a contributing group with recognition of our Charter by the Crown. This charter has been used to establish a ranking system with in our guild and conferred upon two member ranks and we have held our first guild level prize. All this is quite a major achievement for what has been a craft that has traditionally been on the edges of the Kingdom. You all should be proud of the part you have played in its success.
At Rowany Festival past we held our AGM in accordance with our charter, at which we voted in a clerk for the following year (Yours Truly) and the new guild ranking system for craftsmen & craftswomen. While I am enjoying the role of Clerk this is the last time I can do it and as such I will not be seeking the position next year. I have had one person show interest in the position that I will catch up with in the near future. However this is a fun job that works well in a team so I would encourage everybody to think about how they could contribute to the guild in an administrative capacity. It is great thing to do, you meet lots of people who you might not in normal SCA and they tend to give you a drink or two 😉
Also at Festival I received completed paperwork from Mistress Rohesia Le Sarjent & Lady Iseabail inghean Domhnall mhic Donchaidh for ranking. As such Rohesia will be issued a writ for Journeyman's ranking and Iseabail will be issued a rank for Craftsmen. I have also received some other paperwork from people that I need to follow up which I will do in the near future. If you think you have given me something and have not heard from me please email me in private and I will follow it up.
The other piece of business that arose out of the AGM was the role of imbibers/tasters within the guild. There was a strong feeling that we should find a way to include them within the guild ranking. This is a good thing and we need to discuss this in the coming year. As it stands I have no idea on how to handle this so I am throwing it out to the guild for ideas. So please people let's hear them!
I remain yours in service,
Master Rurik.
Following the Guild meeting at Festival 2015 we now have a new Guild Ranking system. See the Guild Ranking page for details including the submission forms and contact the Guild Clerk via the Contact Us page to make your submission.
To the Guild of Brewers in the Kingdom of Lochac,
Greeting from Rurik farserkr; clerk of the guild.
Well it has been a very big and very busy year for all of us and it only seems like yesterday I was calling for business for our AGM. Given how close festival is it is now time to call for business. If you have any thing that you feel should be brought to the attention of the Guild please raise it on the Email List so we can discuss it.
So far the there are only two pieces of business for the up coming meeting, the election of Guild Officers and the proposed ranking system.
If you are interested in contributing to the guild in an administrative way please put yourself forward. It is not hard, is a lot of fun and a great way to meet people. As they say join the guild, see the world, meet interesting people and have a drink with them.
I would also draw your attention to the draft (draught) guild ranking system. This is has been worked on through out the year by Mistress Rohesia Le Sarjent (mainly her) and myself. We hope that it reflects the prevailing attitude of the guild. Please take the time to read it and comment on it, even if it is to say "I agree with this." It would be good to have every thing in place to implement this from mid winter onwards. I would take the time to point out hear that the guilds that have a strong & well thought out ranking system are overwhelmingly represented in the Order of the Laurel.
http://brewers.lochac.sca.org/files/2013/11/Brewers-guild-Rankings-Draft2.pdf
This will be brought to this year AGM as a carry over piece of business from the last.
I remain yours in service
Rurik farserkr,
Clerk of the Guild
Sveinn inn kyrri Grimsson has come up with these gorgeous pewter tasting cups featuring the Guild badge inside and the Lochac badge on the handle.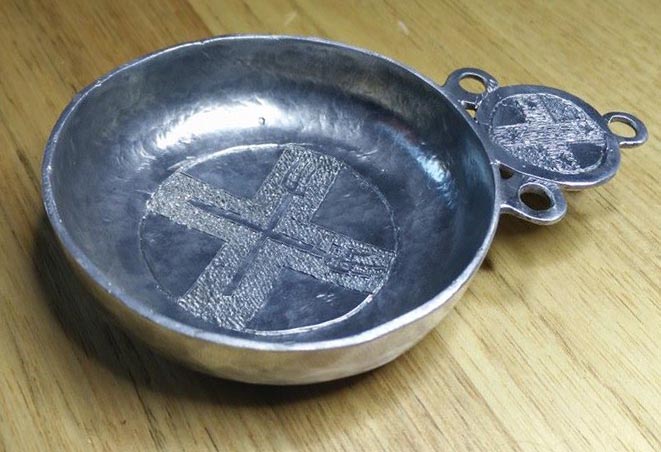 They are about 7cm diameter, 2cm depth and weight around 100gms. Great to wear on your belt as a sign of guild membership and a good size for sampling. We tried them out against a stainless steel goblet and found no noticeable tainting, only variations due to temperature and air exposure.

Sveinn is taking orders with an eye to a production run available at Festival. The cost will be $35 AU or $37 NZ, with $10 deposit requested if you wish to order one.  Please contact Sveinn (Steve Worthington) via the guild mailing list or the Facebook page to express interest.
Canterbury Faire 2015 Brewers Guild Meeting
Present: Mistress Rohesia, Mistress Elayne , Mistress Miriam, Lords James of Southron Gaard, Dauid De Cochran, Timothy Haast, Wiley, Damian, Nathan, John Longshanks, Kotek, Howard, Gideon, Giles Ballard, Edward, Rossell fitz-Richard, Noah, Hercules, Hannibal Mailmaker, Sam, Ladies Iseabail, Margriet, Constance, Sigrith, Sally, Helga, Isabeau and Alanna (taking minutes).
Not everyone was present for the full tasting hence the total votes changed from time to time. There was no official business so we got straight into the tasting.
18 brews were entered over 5 categories. There was a tie between Rohesia with the Metheglen and the Red Zoned Avoncider, and Timothy with the Sweet Mead and Dark Rum. The tie was decided by the on site brew off, using our own home made malts. A public tasting ended with votes 28 to 13 in favour of Rohesia's Gruit Ale, over Timothy's Barley Malt Ale, giving Roheisa the Canterbury Faire Tasting prize for 2015.
FERMENTED SOFT DRINKS
Rohesia's Elderflower Champagne <2%
As per last year, Lemoney with a good elderflower nose. Well liked by the Guild and the populous.
Category WINNER by default.
ALES AND BEERS
Timothy Haast's Pale Ale
A very "happy" beer, using English yeast and NZ hops. Presented on a hand pull. A good English pub ale.
Votes 9 positive, 10 neutral, 3 negative.
James' Meant to be a Bitter
Added too many hops. Primed and conditioned in the bottle, would have been better cold.
Votes 3 positive, 7 neutral, 12 negative.
Damian's Belgian Saison
Crisp and refreshing
Votes 17 positive, 5 neutral, no negative.
Category WINNER.
Timothy Haast's Padrons Barley Wine
As presented last year, now aged a year.
Votes 12 positive, 8 neutral, 2 negative.
James Black Death
Way too much chocolate malt gave a LOT of colour, but not a lot of flavour
Votes 6 positive, 8 neutral, 2 negative.
CIDERS
Dauid's Pear Scrumpy
7kg of pwears juiced, store bought yeast, still cider.
Votes 12 positive, 11 neutral, 2 negative.
Rohesia's Scrumped Perry
Fermented on the fruits own yeast.
Votes 10 positive, 6 neutral, 8 negative.
Rohesia's Serpent's Kiss Cider
Fermented on the fruits own yeast. A mix of backyard apple varieties. "First mouthful is bitey then it grew on me"
Votes 15 positive, 7 neutral, 1 negative.
Rohesia's Cox's Cider
Only Cox's orange apples used, fermented on the fruits own yeast.
Votes 3 positive, 11 neutral, 7 negative.
Rohesia's Redzoned Avoncider
A mix of backyard apples scrumped for the earthquake damaged suburb of Avonside, fermented on the fruits own yeast. Back sweetened with Quince syrup. Votes 22 positive, no neutral, 3 negative.
Category WINNER. Also won the Brewers guild Cider competition held during the A&S display.
Rohesia's Redzoned Crabapple Cider
A mix of crabapples and Red delicious with some Japanese Quince, fermented on the fruits own yeast.
Votes 6 positive, 8 neutral, 5 negative.
WINES
Howard's Gooseberry wine 10%ish
Flavour of burnt peanuts, might be better chilled.
Votes 3 positive, 8 neutral, 9 negative.
Category WINNER by default.
MEADS
Rohesia's Queen Elizabeth Metheglen (original recipe)
Winner of the Midwinter coronation competition. Herbed mead according to the recipe favoured by Queen Elizabeth I.Flavoured with rosemary, thyme and sweetbriar (Elegantine)
Votes 24 positive Unanimous.
Category TIED WINNER
Rohesia's Queen Elizabeth Metheglen (altered recipe)
The same as above but with extra sweetbriar.
Votes 13 positive, 6 neutral, 1 negative.
Category TIED WINNER
Timothy's Sweet Mead
Made with raw honey and a little honey comb, Flavours of pepper and lavender
Votes 23 positive Unanimous
Category TIED WINNER
SPIRITS
Timothy's Dark Rum
Made from sugar and molasses, back sweetened with molasses, aged in a 10 ltr oak cask.
Votes 24 positive, 1 neutral.
Category WINNER
Rohesia and Silver's Apple Brandy
Silver's autolosis tainted cider, distilling, aged for a year on oak and apple wood, diluted with a little apple juice.
Votes 9 positive, 7 neutral, 4 negative.
BREWED ON SITE ALES, as voted by the populous who tasted them.
Rohesia's Gruit Ale
Using our home made pale malt, Heather (from Timothy's garden), Sweet woodruff (from Rohesia's garden) and Yarrow picked on site. Sweetened with honey and using a Belgian Saison yeast. Yeast was pitched on the Tuesday evening of Faire and the ale drunk on the following Saturday afternoon.
28 votes from the populous.
Timothy's Barley Ale
Using our home made malt, some of which was toasted on site on the Sunday of Faire and using a Belgian Saison yeast. Yeast was pitched on the Tuesday evening of Faire and the ale drunk on the following Saturday afternoon.
13 votes from the populous.
The Lochac Brewer's Guild competition for 2015 was Cider. There were 5 entries, 3 from Roheisa Le Sarjent(Belle Sibly) one from , Dauid de Cochran (Dauid Marsden) and one from Padraig Lowther (Paddy Neumann). Entries were judged by a panel of 3 expert judges, Mistress Miriam Galbraith, Master Brian di Caffa and Rossell Fitz-Richard (aka Redbeard, judge of the annual NAAMA brew comp), and scored on documentation, workmanship, authenticity and overall impression. With only 5 entries the planned 3 categories were combined into one.
1st place Rohesia's Avoncider with a score 95
2nd place Rohesia's Crabapple Cider with a score of 91
3rd Paddy's spiced Cyzer with a score of 89
4th Rohesia's Serpent's Kiss Cider with a score of 79
5th Dauid's Pear Scrumpy with a score of 62
Our thanks to all who took part.
Guild Rankings.
It is with a certain amount of trepidation that I start this conversation because it is an emotive issue with good arguments for having and not having a system of personal ranking with in the guild. However we agreed as a body to have this conversation at some point & there is no time like the present.
The first thing that needs to be said is according to our charter membership to the guild is by subscription to the email list & by the function of the Guild Clerk. This conveys the rights, privileges and franchise of being a member of the guild not ones personal rank and I will personally oppose any changes that will cause this not to be so. As the strength of the guild is in the diversity of its members: not the rank of its members. Also I would like to add hear that taking on a role with in the guild should never be dependent on Rank. All guild officers should be open to all members and all members should get a say in whom the officers should be.
Over my two years as Clerk (one as clerk and one in the proto guild time) I have had a few conversations around what guild ranks means to different people and the opinions I have heard from different members has been varied to say the least. They have been from "there should be no guild ranking and if there is I will not be involved" though to "we must have a system & have it NOW." One thing I have noticed in these conversations* is that the people who have wanted a system of ranking for what ever reason have not been recognized in the Kingdom award system. Where people who have been recognized tended to not like the idea of guild ranking. I am saying this so that people are informed and are mindful of other people's point of view as we discuss this. I think given the robustness of our Charter we can accommodate most people's point of view and the level of involvement they would like to have.
The one thing we should keep in mind though out this whole process is the aim of the guild is to network brewers, brew, educate in our art, expand our collective knowledge and make all this available to the Kingdom at large. Any thing that is going to impede these aims should be abandoned if a workable solution cannot be found.
In the coming months I would like to have a conversation about do we need a rank system (Why & Why not), if we do what should it look like (do we do what everybody else has done or do we make out own model), what level would the top rank be at, what skills are expected at each level, how do we measure it. And how do we administer it. To make this work people need to be involved other wise it is not worth much.
I remain yours in service,
Rurik farserkr
Clerk of the guild
*If you think I am talking about you I am not; each opinion has been given multiple times and I am conveying a general idea of the conversations
Queen Elizabeth's Methaeglen – A Lochac Laurels' Brewing Challenge
 Your challenge, should you accept it, is to produce no less than two 300ml bottles of Queen Elizabeth's Methaeglen, as per the recipe below, before Lochac's Mid-Winter Coronation at which time the brewing Laurels will judge which entrant has best accomplished this task using the Lochac Arts & Sciences judging criteria listed at http://artsandsciences.lochac.sca.org/judging. The recipe recommends aging for six months, so you will need to get brewing promptly.
 You are to submit two bottles, each labelled with your name or the name of your brewery and the date of brewing, accompanied by documentation including your own redaction of the recipe and an explanation of any deviations or changes made.
 Entrants will be asked to declare their intention to compete to the Brewers Guild Clerk, Rurik farserkr (ben.paton@gmail.com) by 1st June 2014 at latest. All entries must be delivered to him by Tuesday 24th of June 2014 or, by prior arrangement, brought to Midwinter Coronation in Politarchopolis on Saturday 5th July. Please contact Rurik for a delivery address and/or to arrange cellaring with him.
 The results will be announced at the event, if possible, or by email soon afterwards. The entry judged the best will win a beautiful hand turned wooden mazer.
You can print a PDF of the recipe and competition details here.  Queen Elizabeths Methaeglen
Original recipe from 'The Feminine Monarchie, or a Treatise concerning Bees and the due ordering of Bees,' 1609 By Charles ButlerChapterX "Of the Fruit and profit of Bees. Part 2"  1609 facsimile (Transcribed below)
 Transcription by Justin du Coeur http://jducoeur.org/Cookbook/bees.html :
 ~~~~~~~~~~~~~~~~~~~~~~~~~~~~~~~~~~~~~~~~~~~~~~~~~~~~~~~~
One excellent Receipt I will here recite: and it is of that which our renowned Queen Elizabeth, of happy memory, did so well like, that she would every year have a vessel of it.
First, gather a bushel of Sweet-briar-leaves, and a bushel of Thyme, half a bushel of Rosemary, and a peck of Bay-leaves. Seeth all these (being well washed) in a Furnace of fair water:
let them boil the space of half an hour, or better: and then pour out all the water and herbs into a Vat, and let it stand till it be but milk-warm: then strain the water from the herbs, and take to every six Gallons of water one Gallon of the finest Honey, and put it into the Born, and labor it together half an hour: then let it stand two days, stirring it well twice or thrice each day. Then take the Liquor and boil it anew: and when it doeth (?seed?), skim it as long as there remaineth any Dross. When it is clear, put it into the Vat as before, and there let it be cooled. You must then have in a readiness a Kive of new Ale or Beer, which as soon as you have emptied, suddenly whelm it upside down, and set it up again, and presently put in the Metheglen, and let it stand three days a working. And then tun it up in Barrels, tying at every Tap-hole (by a Pack-thread) a little bag of beaten Cloves and Mace, to the value of an ounce. It must stand half a year before it be drunk.
Monday, 20th January and 1pm. Lunch time in the Cultus Faunus encampment (the one with the  "stone" gate next to the war field.) See you there!
As per last year, we'll be holding a Brewers guild meeting/tasting in the Cultus Faunus Encampment at Lunch time on the Monday of Canterbury Faire. (1pm, 20th Jan) Please bring your lunch with you.
Items for the agenda are;
Comment on the re-written Charter.
Whether we would like to run a brewing competition for next Faire.
Thoughts and ideas on guild ranking.
The tasting categories will be:
Alcoholic soft drinks
Ales and Beers
Meads
Wines and Ciders
Spirits and Liqueurs
Tasting notes and votes will be taken and published after Faire.